Ian Gardiner has written three books.

In the Service of the Sultan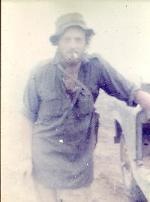 In the Service of the Sultan tells first-hand, the largely unknown story of a small number of British officers who led Muslim soldiers in this hard fought insurgency war which has shaped today's Gulf. After outlining the historical, geographical and political context, the book describes military action in a stark mountainous environment, including operations with irregular forces and the SAS, as well as action in the air and at sea. The book gives a gripping, moving funny account of all these and paints a powerful, illuminating picture of the realities of war. It ranges widely and will appeal to all who are interested in the Cold War and relationships between the Western and the Arab worlds. Politics, history, irregular warfare, religion, international affairs: all are ingredients in this absorbing informative read. In the light of current insurgencies in Iraq and Afghanistan, it is also timely to be reminded how a rare victory was won over Communist guerillas.

Given the current tensions between Islam and Christianity, it is of especial relevance. The cooperation, friendship and ungrudging tolerance that flourished in Oman then - and still do now - present an encouraging and refreshing contrast to the prevailing atmosphere elsewhere. In the light of the current debate surrounding the decision to go to war against Iraq, it is also of interest to be reminded how British forces were committed to a ten-year long hot war against Communism during the Cold War, with barely anyone in UK noticing.

Published by Pen & Sword Books Ltd.

"This is one of the best books about soldiering I have ever read"

Professor Richard Holmes
"This is an enthralling book"
Bruce Anderson
The Telegraph


This book has also now been published in Oman in Arabic.



The Yompers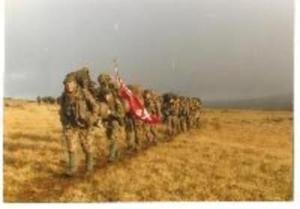 The Yompers describes how the men of 45 Commando Royal Marines were called to action from around the world on 2 April 1982 to sail 8,000 miles to recover the Falklands Islands from Argentine invasion. Lacking helicopters and short of food, they 'yomped' in appalling weather carrying overloaded rucksacks across the roughest terrain. Yet for a month in mid-winter, they remained a cohesive fighting-fit body of men. They then fought and won the highly successful and fierce night battle for Two Sisters, a 1,000 feet high mountain which was the key to the defensive position around Port Stanley.

This is the first-hand story of that epic feat, but it is much more than that. The first to be written by a company commander in the Falklands War, the book gives a compelling vivid description of the 'yomp' and infantry fighting, but it also offers penetrating insights into the realities of war at the higher levels. It is a unique combination of descriptive writing, wider reflections on the Falklands War and conflict in general. Published by Pen & Sword Books Ltd.

Of the 74 Customer Reviews on Amazon, 4 are three star, 9 are four star, and 61 are five star: a remarkable testimony to the quality of this book.

"One of the finest accounts by a front line officer ever written."

Professor Eric Grove

The Flatpack Bombers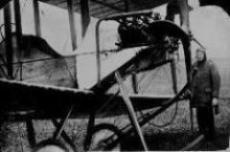 The Flatpack Bombers is the story of the first strategic bomber raids in history which took place deep into Germany in 1914 conducted by the Royal Naval Air Service. It also describes the first British aircraft carrier strike which took place on Christmas Day that year. Churchill's fingerprints are all over this story yet it has been lost in the long grass of history. The book is a flowing narrative of this remarkable episode when Germany, with her Zeppelins, had strategic supremacy in the air, and describes the British attempts to overcome this potentially war winning capability.

Thus it was that the Royal Naval Air Service, with IKEA-style flatpack aeroplanes, pioneered strategic bombing which eventually led to the Blitz, and the massive air raids on Germany and Japan during the Second World War. Moreover, by extending its striking range in order to destroy Zeppelins in their home bases many miles from the sea, the Royal Navy developed the first aircraft carriers. It described the thrilling exploits of the pilots, and the courage and endurance of their adversaries, the German Zeppelin crews, and explains why the British nightmare never came about. Every bomber raid, and every aircraft carrier strike operation since owes it genesis to those early naval flyers, and there are ghosts from 1914 which haunt us still today.

Published by Pen & Sword Books Ltd

"Meticulous yet charming, accessable to the non-specialist reader, yet full of fresh detail"

Mark Urban